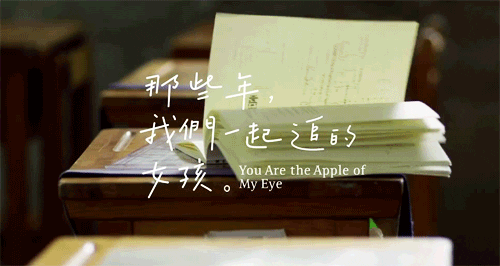 Ratings: ★★★★★ 5/5
Title: You Are the Apple of My Eye
Director: Giddens Ko / Writer: Giddens Ko (novel/screenplay)
Release Date: 19 August 2011 (Taiwan) / Time: 1h 49min
Main Casts: Kai Ko, Michelle Chen
Synopsis: IMDb
Since I'm in the process of reading the subject of my review, let's review a movie. Here I am, having a long stare game with my laptop, searching for unfamiliar one from bulks of movies I watched before. Speaking to myself, "I need it to be great and worth it." I'm self-testing what genre to pull, being specific is highly commended to google in order to acquire great recommendation in its worldwide web. So, I gave life to my idea the moment my hands keep in touch with the keys. And viola, I found one and it became the apple of my eye (literally, guys!) Moreover, my interest has peaked the moment I noticed and read: based on true story and semi-autobiographical. Ahh, I'm such a sucker of it. This one nailed it for me.
You Are the Apple of My Eye  is a Taiwanese film (this is my first watched film set in Taiwan, since I started to watch Asian movies, after my English professor recommended them way back in college). It is adopted on the semi-autobiographical novel of Giddens Ko, entitled The Girl We Chased Together in Those Years. Released by 2011, it became a massive box office hit and overwhelmingly accepted by people across Asian country, heretofore. It also contributed career growth for the actors who gave life to the characters, much as well for Giddens; who debuted for producing the movie. After watching it, I realized why this movie surely deserved its prominence and phenomenal success.
The story begins as a grown-up man grooming himself in front of the mirror bites his apple. From there, a flashback takes its place. The cue time for us to meet our storyteller here, Ko Ching-Teng who is an advocate of the hashtag: No to Studying, Yes to Everything! that will help him kill the tedious hours of classes in between. For it to be a mission accomplished, the camaraderie between his gang is a necessity. Ko-teng being a sassy guy he was, has given birth names for his friends namely Boner, Cock, Groin, A-ho, and Magic (btw, you'll thank them for all your hysterical throws later. Save it in your memory, will yo?) High school students like them spell trouble for their teachers. They need a supporter to assail them away. Presumably, this includes the top achiever of the class, Shen Chia-Yi. 🎉🎉 She is his classmate since junior high whose existence never occurs in him except to his knowledge of her oozing presence that became a buzz subject among his friends.
Shen Chia-Yi is not only known for her stellar academic grades but also popular among men, mostly of Ko-teng's friends who admire her beauty. Yet for our hero, she failed to pass his standard of beauty. In his denial to join the hype, he found himself on the opposite side of admiration, hate. He assumed that student like her is unlikely to involve herself in his matters. He thought that she is way out of his league, a bubble like: I'm a badass kind of guy and you are the epitome of goodness. He thought that they are a world apart and not meant to mingle in each hemisphere at the first place. In which, of course, is up to destiny.
I think the chemistry between two actors is palpable and incredible. I loved it in infinity and beyond. (thanks, Toy Story!). Michelle Chen who portrays Chia-Yi is 8 years older than Ko Chen-tung who in turn give life to Ko-teng. The way these two actors portray their characters and how they make it real onscreen should be given credit, which means that their personal profile has vanished at that moment and they penetrate the character roles so well. It is superb to the point you are shipping them to have babies right there. (uhm..that's daring so let's skip it. 😅) 
The sense of humor is inclined naturally just like how we made fun of ourselves in the dumbest moment of our lives. It is funny how the movie depicts their active sexual lifestyle in that phase of their teenage lives. They said men are born with that kind of nature and this is a true story, should I repeat?! (I'm laughing hard at that part with his father and when he's reading shamelessly at the rooftop. 😂😂 I just laugh again, darn!) Ko-teng's roommates too, they never fail to make his college life humorous and this movie too, I suppose.
As the movie worked its way of enticing me to enter a story of their love affair, I giggle, smile, fall in and out of love then permeates my feelings as the plot flows and twist. It is exactly just how I preferred it from other fast-paced romance movies where everything becomes instant love.
It also embarks me the disposition of Ko-teng's value for friendship. I felt the tint of jealousy he had then. The respect he had for everybody, him as Chia-Yi lover who supported, encouraged, (the book scene gives him my swoon approval) admired her amidst a sloppy face and who stood up for her, his patience and care after the span of years, and his preference to remember the happy times they built together rather than their pains. I love the way they dream their future. The way they study hard and reach their goals. The fragment of moments made me realized how far he had grown to become a responsible chap.
On the other hand, Chia-Yi proved that she is beyond her books and academic achievements. She's not a selfish student and gives help for her classmates who need her skills and learning bank. She's not self-conceited to judge her inferiors. She's also fierce to tell what's inside her mind even if it was against the norm and beyond her comfort zone. She plays and works harder. She stands up for her friends, too. She makes beauty and brain a real deal, her simplicity rocks and she knows her strength to turn the boy she had her eyes to become a better and honored man.
The end might spur different reactions from viewers, yet it is favorable and justified for me. The relationship of the protagonists, as I aforementioned, makes me giddy, smitten and deeply moved. I have fallen in love together with them without a doubt, especially when they are out of each other's radar (one of my fave part).
The movie reminds me that life is abrupt and we are incapable of knowing what lies beyond the horizons, yet, life in its abruptness has its extravagance of wonders. Maybe, my loss today might be my gain tomorrow, my sorrow might be my way to find my happiness, and the closed doors in my path might divert me to open windows. I've come to realize that no matter what happened, Love never leaves. Love always (always) stays.
Overall, the movie brings out hysterical laughs, bittersweet feelings, remarkable memories, hope, and uncertainties. Thus, I've come to learn that to love has no boundaries and to dream has no limit. I should also learn to speak my heart without deprivation, to act right without reservation because everything in this life comes out of love and that love doesn't mean to destroy us, but to make us strong.
You are the Apple of my Eye left me an unforgettable story of love, loss, redemption, and finding myself in the continuous cycle of life.  Thereafter I finished this movie, it rocketed my most favorite Asian films list. I highly recommended this movie for viewers who had experienced an unforgettable and peculiar form of love that stays beyond years and change their lives.